| | |
| --- | --- |
| | Direct Descendants of John Hossack of Ottawa |

Louise Hossack, born Dec. 21, 1843, married Wm. W. Calkins, Jan. 25, 1865. He was born May 29, 1842 and died July 9, 1914. Louise died in Chicago, Sept. 23, 1918, age 75 yrs. Their married life was 49 yrs. Both were buried at Ottawa, Illinois.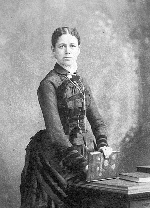 "Aunt Lu" and her husband had no children of their own. This may have been due to Lt. Calkins being incarcerated at Andersonville prison during the Civil War and the privations he suffered there. They selflessly served as foster parents for James Alexander Hossack's five children, when he died unexpectedly in Peoria in 1892. They did the same for Milo and Belle Putney's four daughters after Belle's death with twins in 1892.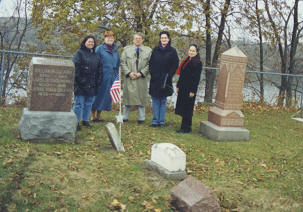 The Calkins family plot with Will, Lu, and a sister of William interred next to the Putney plot. Three of the Calkins' foster great great granddaughters and two foster great grandchildren are present in November, 2002:
Late photos of "Aunt Lu" (thanks to Marj Weir)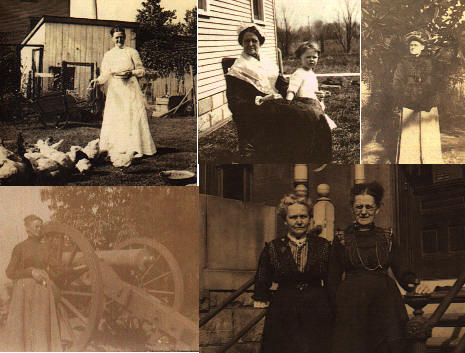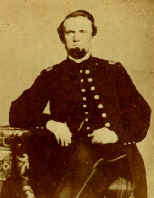 William Wirt Calkins was a lieutenant in the Grand Army of the Republic during the Civil War. He wrote a sizable book, The History of the 104th Illinois Volunteer Infantry.
He was a renowned naturalist with published works on the flora and fauna of the Chicago area. His ten bound volumes of collected lichens and research is on deposit with the Chicago Academy of Sciences, and his lichenography is internationally recognized and studied today.
Aunt Lu's hubby gets more interesting by the day. An e-mail from Kevin Cummings of the Illinois Natural History Survey indicates that W.W. Calkins was influential in the field of conchology with a significant collection and an impressive list of publications to his credit. You can find the page with its bibliography at: http://www.inhs.uiuc.edu/~ksc/Malacologists/CalkinsW.W.html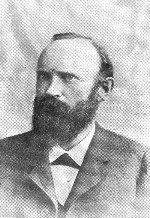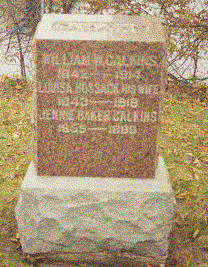 The MIDI file of "Tramp Tramp Tramp" is used by permission of Benjamin Robert Tubb from his website at Public Domain Music http://www.pdmusic.org